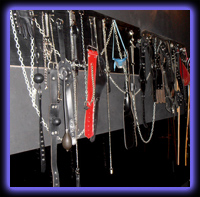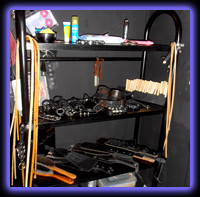 Implements
London chambers has wall to wall implements including many whips, canes, tawses, crops, spanking bats, hairbrushes, and cat of nine tails, all varying in weight and size.

Electrics are E-Stim with sounds, butt plug cock bands nipple clamps, pin wheel and a working battery of course.

Strap-on dildo's vibrators and butt plugs are also in many sizes from very small for you wimps to the extra large for the very brave. Hot wax, needle play and a variety of extras are always available.

Here at London Chambers, we aim to give a slave a fresh, exciting and original experience. If there is something that you desire that's not written in the site just pick up the phone and ask. We are always adding to our collection. With your chosen Mistress and this fantastic dungeon you are going to have the session of all sessions, that is going to leave you always wanting and needing more.